Put this Powerful Selling Tool in the Hands of Your Best Prospects and Clients Before Your Competitors Do!
Dear Industry Professional,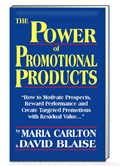 If you need an easy, non-confrontational way to teach your clients The Power of Promotional Products, and train your clients on the value you provide, here's great news…
The Power of Promotional Products is not just a book. It's a strategic selling tool for true promotional products advisors.
In addition to telling your clients how to best use promotional products as a valuable and integral part of their advertising mix, it clearly and repeatedly explains to your clients the advantages of doing business with you (a real promotional products advisor) over the typical "distributor."
By Getting this Book into Your Client's Hands Before Your Competitors Do, You Position Yourself as an Industry Leader
…someone willing to empower your clients with valuable information and work with them to achieve the results they most desire. The book encourages your clients to use promotional products for everything from generating leads and converting sales, to quantifying the performance of every other marketing medium they use.
With this book, you position yourself as a true promotional advisor, focused on the needs of your clients, rather than the typical distributor approach that focuses almost exclusively on product.
"The myopic view that promotions and giveaways are the same thing, likely costs businesses untold millions of dollars each year."
"The Power of Promotional Products comes from their ability to get an effective, targeted marketing message in front of exactly the prospects and clients you need to reach, and keep it there… without the waste associated with other media."
"When you find a knowledgeable, reliable promotional products advisor, it makes a lot of sense to stick with them. Companies that take a "disposable" attitude toward promotional product specialists by constantly bidding out projects to strangers and then buying based on price alone, often end up doing themselves more harm than good."
Introduction: Some Marketers Just Don't Get It
Chapter 1: What are Promotional Products and Why Are They So Popular?
Chapter 2: Does Your Promotion Have a Purpose?
Chapter 3: Managing Your Options
Chapter 4: Some Types of Promotional Products and Gifts
Chapter 5: How to Balance Budget, Quality and Quantity
Chapter 6: Tips on Choosing the Appropriate Product
Chapter 7: Articulating and Reinforcing Your Brand Values
Chapter 8: Corporate Gifts
Chapter 9: Packaging
Chapter 10: Forging Business Relationships with Tax-Smart Strategies
Chapter 11: Enhancing Your Image with Corporate Apparel
Chapter 12: Maximing Trade Show Response
Chapter 13: Your Promotional Products Advisor
Chapter 14: Saving Money, Time, Headaches with Artwork – How to Make it Easy on Yourself
Chapter 15: Why Do I Have to Pay for That? Understanding Industry Charges and Buzzwords
Chapter 16: Promotional Products and the Laws of the Universe
Get a copy. Read and highlight it for yourself. Once you've seen the value, you'll want to get it into the hands of your most important clients… before your competitors do!
"I would have loved to have had a book that I could show to clients and say, 'see, this is exactly why you should do this promotion.' The Power of Promotional Products is just such a book."
Co-author Maria Carlton
Hamilton, New Zealand
Industry professionals may purchase The Power of Promotional Products in quantities of twelve (12) units or more at wholesale pricing for resale or distribution to their clients (click link below to access wholesale pricing.)
To order by phone, call toll-free at 1-800-494-2721 (outside US, dial 1-610-685-9700.)