Total Market Domination
Free Workshop Series
Total Market Domination
Workshop Video 1
Total Market Domination
Workshop Video 2
Total Market Domination
Workshop Video 3
Total Market Domination
Workshop Video 4
Win Access to the Total Market Domination Coaching Program, which sells for $1,497.
What Would the Ability to Create Top of Mind Awareness and Dominate Your Market Do for You and Your Business?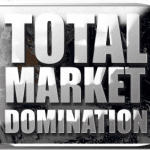 In the comment box below, tell us:
What are the top two or three lessons you learned from watching our free video series on How to Create Top of Mind Awareness and Dominate Your Market? If you need a refresher course, you can access the series using the links above.
What would having the ability to create top of mind awareness with your very best prospects do for you, your family and your business?
Why would YOU be far more likely to follow through, take action and make it happen than anyone else I could possibly give this to?
To qualify for the contest, please be sure to answer all three of the questions above (ideally in that order.)
Please note: This is not a needs-based contest, so avoid entries that talk about being desperate and having no money. Anyone who wants to dominate their market must have sufficient resources to remain in business and invest in getting new customers.
I'll have my team read all the responses and vote on the one they like best, based on how well they answered the questions above. The submission with the most votes wins.
Be interesting. Be compelling. Be real.
Whoever gets the most votes, gets to participate in the full-year Total Market Domination course for free.
If you don't want your name to appear on the site, feel free to use a screen name, but be sure to enter your correct email address so we can notify you if you win (your email will not appear with your submission.)
Submissions must be entered in the box below by 5 PM ET this Friday, October 5th. Comments will be closed at that time. The winning entry will be announced on Monday, October 8th. There is no purchase necessary to enter.
Good luck!
Congratulations to Chris Hetterich, winner of our Total Market Domination Contest!
22 responses to "TMD Contest"