Total Market Domination
Workshop Series
Total Market Domination
Workshop Video 1
Total Market Domination
Workshop Video 2
Total Market Domination
Workshop Video 3
Total Market Domination
Q & A 1
Total Market Domination
Q & A 2
Total Market Domination
Q & A 3
In this video, we address the following questions about creating top of mind awareness and dominating your market: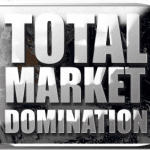 00:27 - How do I grow when I'm already very busy?
02:59 - How to break into a totally unfamiliar market?
05:45 - How to think outside my box and be BIGGER than I feel. I know I'm my own worst enemy sometimes. LOL
07:49 - To me total means all, nothing is all inclusive. Getting products to people who need the products, that's what we do every day. and Domination - not for us. We want to do a good job for our customers. Don't want to dominate anything --- so in other words, I don't think I have a question for you. Sorry. But I admire you trying to take this on.
10:35 - How do you gain the edge over other local competitors.
12:35 - How can we create an online platform that caters to our vertical market efficiently and effectively?
13:09 - What 1 ONE thing should I do? Simple.BE OLD SCHOOL PROFESSIONAL. Why don't my competitors answer your phone, return phone calls,make appointments,be on time,actually show up, follow up and follow the order all the way through.
14:52 - How to I acquire and retain clients that actually actually allow me to make some profit?
16:47 - I don't think such a situation exists in our markets served.
18:19 - What's the best approach and follow-up(s) in order to get that initial door to open and get that ever-so important face-to-face appointment?
21:35 - How can this be done in a streamline fashion and avoid/eliminate "time stealers" during the process?
23:02 - How is this course different from other courses you offer such as as to get to $1M in clients, or 30 Days to Success, etc?
What is the Single Biggest Question you would like to have answered about creating top of mind awareness and dominating your market?
3 responses to "TMD Q & A Video 1"