Attention Business Owners:
"Are You Serious About Hiring Promotional Products Salespeople?"
Dear Industry Professional,
In my conversations with literally hundreds of promotional products professionals over the years, I've discovered that the REAL reason they don't hire salespeople boils down to 5 primary things:
The REAL Reasons Distributors Don't Hire Salespeople
They don't know where to look or what to say. They don't know where to advertise, or what to say in an ad that would get people to respond.
They're uncomfortable with the interview process. While they can ask general questions, they're not confident in their ability to conduct a credible, structured interview process, and they don't want to look foolish.
They lack controls. They know they would need things like a sales manual, operations manual and employee handbooks, but the whole idea of figuring out what goes into all that and putting it together just seems too overwhelming.
They lack documentation. They know they would also need things like application forms, job descriptions, employee or independent contractor agreements, no-compete agreements... where does it end?
Even if they did manage to hire someone, where would they find the time to train them? Many distributors are great at what they do, but lack the patience to explain it (let alone training people on it!)
So let me ask you a question...
If I Offered You a Package of Resources that Included:
Ad Templates containing the exact words you can use to attract salespeople to your promotional products business.
A 9 Step Process outlining all the best practices from running ads, evaluating resumes, conducting interviews and checking references... right up through screening and making the job offer. How many people in the promo industry do you suppose do this well?
A Complete Promo Products Sales Team Manual, Operations Manual and Employee Handbook that you can customize to your business quickly and easily.
Agreement Templates Covering All the Essentials like artwork, company stores, fulfillment programs, independent contractors, non-disclosures, no-competes and more.
Job Descriptions for Critical Positions including Bookkeeper, Customer Service, Customer Service Supervisor, Multi-Media Designer, Operations Manager, Purchasing Agent, Sales Manager, Sales Representative, Sales Support Rep, Shipping Supervisor, VP of Finance, VP of Operations, VP of Sales & Marketing, and, oh yes, CEO! And if you have a showroom or store front, we also cover positions like Retail Sales Associate, Retail Store Asst Manager, Retail Store Keyholder and Retail Store Manager.
All the Forms You Need from First Day Employee Briefings to Exit Interviews, including Employee Evaluations, Employment Eligibility Verifications, Personnel Policy Worksheet, Sample Classified Ads, Separation Notice for Resignation, Separation Notice for Termination, Statements of Warning, Termination Forms and Training Schedules
As a Business Owner, You Must Have the Ability to Hire (and Fire) Key Employees as Necessary. Otherwise, You Will Never Grow to Your Full Potential.
Running a business today is harder than ever, and maintaining the ability to operate freely means that you must have systems in place to clearly and effectively outline the expectations you have of your employees and the expectations they should have of you!
The most successful businesses in the world create consistent results for their clients. That means clients know exactly what to expect from them, even before they walk through the door!
But consistent results don't just happen. They require a formula… a recipe for success. It's not just about selling a product, it's about creating the system that sells the product.
Ultimately, It's About Creating Systems that Work
Creating effective systems can require years of costly experimentation, additional months of documentation, and even then, can cost a lot of money just to get in place.
Seriously, how much time and money would it take for you to do all the necessary research to write up to 500+ pages of documentation for your business? How much more would it cost to work with a consultant to create and customize such an extensive collection of documents and make it specific to our industry?
Perhaps a better question is how much would it be worth to you to side-step all the problems, time, anxiety, contingency-planning, writing, rewriting, trouble-shooting and updating required to create even the most basic, bare-bones documentation for your business?
When Hiring Sales People: They need to buy into your vision. This only happens when you clearly and effectively communicate what your business is all about, and how they can partner with you to make money and become extremely successful.
When Hiring Staff: Successful hiring means no surprises. All employees need to know exactly what is expected of them, and what they can expect from you and your business.
When Assigning Job Descriptions: Both you and your employees need to know what needs to be done and how to do it.
How Much Would it Be Worth to Streamline Your Process and Have All This In Place and Ready to Go?
I've been where you are. I understand the frustration of wanting to hire salespeople, but knowing I couldn't, because I didn't have the proper documentation in place. That's why I finally bit the bullet and invested the necessary time, work, effort and money into creating the suite of documents we call The Top Secrets Manual System.
Now, There is an Affordable, Turn-Key, Industry-Specific Solution to Address All of These Important Issues for You. Download it Right Now and Customize it Within Minutes…
Sell salespeople or independent representatives on the benefits of your organization with your fully customized Sales Manual.
Provide details on what to do and how to do it with your complete Operations Manual.
Let all your employees know exactly what is required of them with your detailed Employee Handbook.
These Success Documents Will Form the Core of Your New Success System. But it Doesn't Stop There…
Protect company information and customer files with a binding confidentiality agreement.
Discourage account theft with an enforceable no-compete agreement.
Eliminate confusion over "who does what" with a clear and comprehensive job description.
Why Waste Your Valuable Time and Resources Trying to Reinvent the Wheel. It's Already Been Done for You!
These are the documents that I wish someone would have provided me in my promotional products business. Instead, I had to spend a ridiculous amount of time and an enormous amount of money to have it developed.
In fact, it cost me well over $25,000 to have a business development company create just one component of this system for me.
Sound like a lot? Consider this:
If an Employee Walks Out of a Bank with $250,000 that Doesn't Belong to Them, It's Called Bank Robbery.
But if an Employee Walks Out of a Promotional Products Business with a $250,000 Account that Doesn't Belong to Them, It's Called "a Cost of Doing Business!"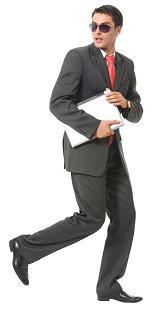 Scary, isn't it? To think that someone could literally walk away with company assets of a quarter of a million dollars or more and face no consequences?
Listen, I'm a salesperson and an entrepreneur just like you. And I've spent a lot of money to do the best job I can to protect any business assets that I am fortunate enough to accumulate.
I won't pretend that this system will protect every aspect of your business. Nothing will. But I can assure you, that it will give you a huge head start and nip many potential issues in the bud!
Personally, I Hate Dealing With This Aspect of Business. The Selling and Marketing Side is a Lot More Sexy…
But Getting this Part of Your Business Covered is Absolutely Critical to Your Success. So Why Not Grab the Turnkey Solution?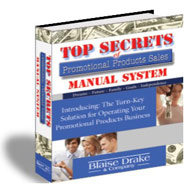 Get the Top Secrets Manual System now via DIGITAL DOWNLOAD and implement it in your business right away.
Everything is ready for you, specific to the promotional products industry, completely turn-keyed and laid-out step-by-step. After a simple "search and replace", all your company information will appear in the documentation.
You can change whatever you want, or go with it exactly as written. Then just print out as many copies as you need!
PLUS: Access to the Best Industry-Specific Online Training Available to get your new sales reps up to speed quickly on all the essentials of promotional products sales.
Check out our testimonials and see what other distributors have to say about doing business with us, then call 1-800-494-2721 or just click below to put this to work for you.
Literally thousands of man-hours went into the creation of this product, but now, you can download it in seconds, and implement it in your business right away.
We've Been Providing Solutions for Promotional Products Businesses for Years. We Live and Work in this Industry. That's Why Your Complete Satisfaction is Our #1 Priority
Top Secrets Manual System
| | | | |
| --- | --- | --- | --- |
| 1. | Sales Team Manual | | |
| 2. | Operations Manual | | |
| 3. | Employee Handbook | | |
| 4. | Agreements | | |
| 5. | Job Descriptions | | |
| 6. | Forms | | |
| | | | |
| | | | |
The Top Secrets Manual System is AVAILABLE RIGHT NOW via digital download from our website. Place your order and we'll forward an email confirmation with complete download instructions.
If you order today, you'll receive a digital copy of the never-before-released audio seminar:
- Live From Australia -
Top Secrets: Down Under
This is an additional $149 value, yours free if you order now. Get the complete, $2,631 package now for just $997 $497.

Click here or call 1-800-494-2721 Ext. 125 right now to put this incredible resource to work for you.
Sincerely,



David Blaise
Blaise Drake & Company, Inc.
2669 Shillington Rd #422
Sinking Spring, PA  19608
(800) 494-2721 or (610) 685-9700
www.TopSecrets.com