Get Top Secrets Live Training
Why Just Book a Speaker, When You Can Have a Sales and Marketing Event?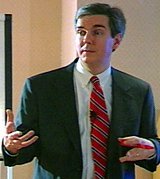 "David is always one of the top rated speakers at our shows, no matter what topic he is presenting. Anytime a distributor calls me looking for how to be successful, I always recommend the Top Secrets program."
Natalie Townes, Education Director
ASI Show!
Boost attendance and "Turbo Charge" your next Education Day with Top Secrets Power Sessions designed to produce lasting results.
"David Blaise is considered by most to be the leading trainer of sales persons in the industry today. He goes beyond fuzzy feel-good creativity to focus on accountability and results. He knows what it takes to develop and implement promotions that work."
Gene Geiger, CEO
Geiger Promotional Products
"The presentation David made was packed with useful and timely information. Afterwards, all I heard was 'That was great - let's do it again'."
Jay Shucart, President
Promotional Products Association of the Midwest
Rather than just "showing up" as many speakers do, Top Secrets provides you with:
Powerful, proven advertising copy designed to increase attendance at your event.
An industry-related article or articles to appear in your newsletter prior to the event.
FREE access to a custom online video promoting the event (have your members watch this to get fired up and "pre-sold!")
Free e-mail promotion of your event to the 20,000+ distributors who receive the Top Secrets eNewsletter.
Free promotion of your event on the Top Secrets Website.
A Free gift for all participants who pre-register by a certain date.
A "thank you" gift for all attendees.
Live Top Secrets Training is available at your facility or ours. Here are just some of the industry organizations who have scheduled Top Secrets events:
The Advertising Specialty Institute (ASI)
The Promotional Product Association International (PPAI Expo)
Australasian Promotional Products Association (APPA - Australia)
Carolinas Association of Advertising Specialists (CAAS)
Geiger Promotional Products
Kaeser and Blair
Proforma
Promotions East
Specialty Advertising Association of California (SAAC)
Specialty Advertising Assn. of Greater New York (SAAGNY)
Mid-Atlantic Promotional Products Association (MAPPA)
Michigan Promotional Products Association (MiPPA)
Promotional Products Association of Canada (PPAC)
Promotional Products Association of the Midwest (PPAM)
Promotional Products Association of the Mid-South (PPAMS)
Talbot Marketing (Canada)
Three Rivers Advetising Specialty Association (TRASA)
Wompro (Australia)
Top Secrets Sales Training is taught at all the major industry trade shows.
To check dates and availability, please contact us toll-free at 800-494-2721 x-125, or e-mail requests to support@topsecrets.com.
Sincerely,



David Blaise
Top Secrets of Promotional Products Sales