Total Market Domination
Workshop Series
Total Market Domination
Workshop Video 1
Total Market Domination
Workshop Video 2
Total Market Domination
Workshop Video 3
Total Market Domination
Q & A 1
Total Market Domination
Q & A 2
Total Market Domination
Q & A 3
In this video, we address the following questions about creating top of mind awareness and dominating your market: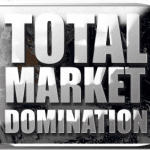 00:42 - What is the best way to become top of mind and stay there?
01:50 - I need a system/software that will service and build relationships with my customer.
02:09 - David, what is the best way/vehicle to LAUNCH total market domination?
04:17 - How can you accomplish that when clients are already working and happy with other vendors, possibly your own peers who know what you know about standing out?
06:27 - We have boxes of samples. We do use these to show customers the quality and imprint capabilities, however, I do not feel that we are using these to their fullest potential. Are there better ways we can use them? Also, thank you for all your great material you have already released. I am looking forward to seeing Total Market Domination.
07:41 - How to explain that working with a promotional products professional is much like letting a pharmacist know what kinds of medications you take, so they can work with all the information for the best results.
08:47 - How do you measure various social media outlets?
10:31 - How do you compete with internet purchasing, those customers who shop on like at places like -----?
SIMILAR QUESTION: How do I compete online against the very large competitors on a limited budget and limited time? Link: How to compete with websites, local competitors and price-cutters.
12:43 - How to create a total market dominance on a limited marketing budget.
13:25 - What is the biggest key to dominating a market and how do you stay on top of everything that goes on with each and every order?
15:23 - How to make it happen.
16:45 - If you could concentrate on one industry, which industry would you choose?
Ask your questions and add your comments below...